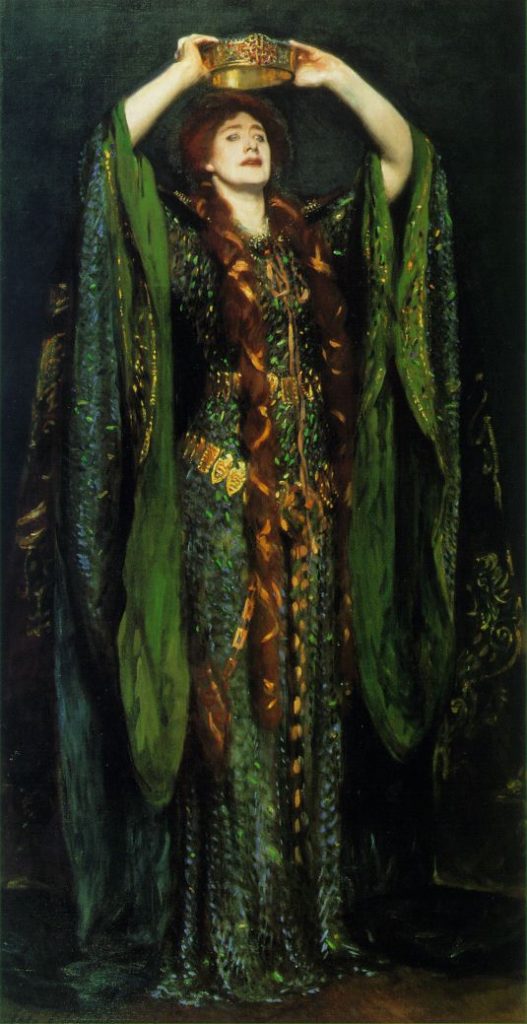 Ellen Terry as Lady Macbeth
One of the major exhibitions happening in London in 2015 is John Singer Sargent at the National Portrait Gallery, Sargent: Portraits of Artists and Friends that is running until 25 May 2015. The exhibition is organized in partnership with the Metropolitan Museum of Art in New York.
The exhibition will uniquely give an insight into Sargent's life through his work with selectively curated intimate and non-commissioned portraits Sargent painted of his spectacular circle of friends. A variety of stories behind the paintings in this exhibition display the keen interest Sargent had in arts, music, literature and theater. Not surprisingly, amongst his painted friends were some of the most impressive advocates for the cultural movement of the time: Claude Monet, Robert Louis Stevenson, Auguste Rodin and Ellen Terry.
His works have been lent by museums from all over the world: Musée Rodin, Musée d'Orsay, the Fine Arts Museum of San Francisco, the Art Institute of Chicago and the Minneapolis Institute of Arts, just to name a few.
In 1889, Sargent painted a portrait of Ellen Terry as Lady Macbeth placing a crown on her head after the murder of King Duncan while wearing a beautiful green dress. Terry even wrote a letter to her daughter expressing her amazement over the dress and called Sargent's painting the sensation of 1889. Only a year later, it was exhibited in Paris, later Chicago, then Liverpool, until Irving bought the painting to display it at Lyceum Theatre. After Irving's death, Sir Joseph Duveen donated it to the Tate Gallery beginning of the 20th century.
Ellen Terry was an English theater actress, and a renowned customer of Charbonnel et Walker. She joined Henry Irving's company in 1878 where she worked as his leading lady in plays such as The Merchant of Venice or as Beatrice in Much Ado About Nothing. In fact, Sargent painted her twice, the first time as Lady Macbeth, the second time for Terry's golden jubilee programme in 1906. The painting of Ellen Terry in her beetle-wing gown can also be viewed at the current exhibition in the National Potrait Gallery.
As part of the exhibition, we have partnered with the National Portrait Gallery to offer one lucky winner a year's supply of chocolates!
To enter, use the touch screen at the exhibition or the form on the Gallery's website on http://www.npg.org.uk/whatson/sargent/competition.php.